Why hello tax season… This time of year you can find me rummaging through my files to collect & file away necessary tax documents, which also means it is time for my annual review of our files to determine what documents are no longer necessary and are ready to be shredded.  I know what you are thinking… but I have opted to go paperless on things like bank statements and insurance policies, so what documents do I even have to shred?? 
Congrats! You are one step ahead of the game! (when possible, sign up for paperless – it makes it so much easier to keep track of documents and keep them organized) BUT even if you have opted to go paperless on some items, you most likely still receive some important documents through the mail – these could be medical bills, explanations of benefits, or tax documents. 
So now let's figure out what to do with these documents! Follow along to quickly learn all the shredding do's and don'ts…then download/print my handy cheat sheet to refer back to! 
WHY to Shred
Unfortunately identity theft is a real thing and something that anyone can fall prey to. One way to protect yourself from identity theft is to properly shred your documents. As a general rule of thumb, any document that includes account numbers, addresses, birth dates, maiden names, passwords or PINs, signatures, social security numbers, etc. should be disposed of via shredding. 
WHERE to Shred
If you live in the Kansas City Metro, below are some options of where to take your documents. Keep in mind most places will charge a small fee to safely dispose of your documents.  
Pro Tip: Be on the lookout as many of these companies host local shredding events where you can shred your documents for free!
WHAT & WHEN to Shred
Managing a home filing system is key to staying organized and ensuring you are keeping (and can easily find) necessary documents. But the question always comes down to, how long do I need to keep my taxes, receipts, bank statements? Well, unfortunately each document is different, so before you go shredding crazy, make sure you have reviewed the timelines below.
Immediately
Sales Receipts Minor Purchases

ATM Receipts

Paid Credit Card Statements

Credit Offers

Cancelled Checks
Within 1 Year
Paychecks/Stubs

Bank Statements

Paid Undisputed Medical Bills
After 7 years
Tax Documents (Filings and all accompanying documents such as W-2s & related receipts)

Investment Records
Variable
Vehicle Records – As long as you own the vehicle

Leases – Until you have moved out and received your deposit back from the landlord

Home Deed –  As long as you own the property

Home Improvement Receipts – As long as you own the property

Sales Receipts Major Purchases – keep for the lifetime of the warranty
Never Shred (unless expired)
There are certain documents that are considered permanent records that should be kept in a secure manner, such as a locked filing cabinet, fireproof safe, or safe deposit box. Keep in mind that if any of these documents expire (ie. drivers license, passport, etc.) they should be shredded immediately.
Birth Certificates or Adoption Papers

Social Security Card

Citizenship papers, Drivers License or Passport

Marriage or Divorce decrees

Death Certificates

Pension Plan Documents

Insurance Policies

Wills
** If there are any tax documents you are unsure if you should get rid of, be sure to check with your accountant first.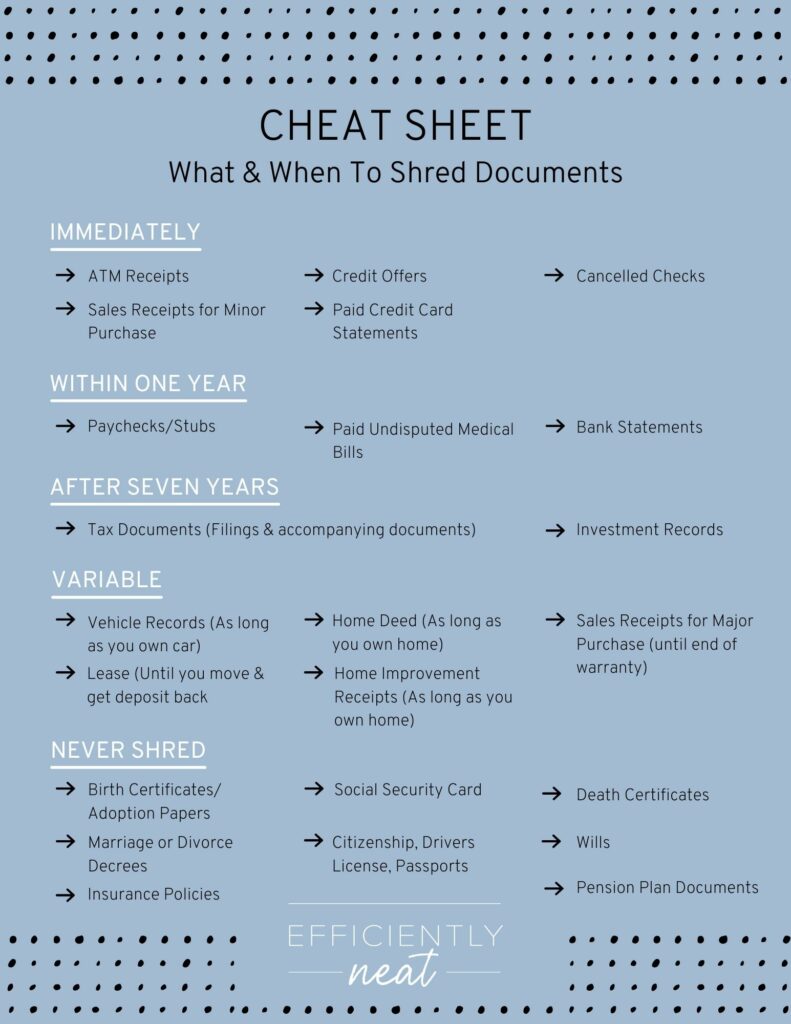 I hope this helps to clarify some of those fuzzy details when it comes to shredding… Now go tackle organizing those files with confidence!
Happy Organizing!
-EN