If you live in Kansas City, you are very familiar with how *extremely* unpredictable the weather can be… cue snow one week followed by a week of highs in the 80s 🤷🏼‍♀️ With weather like ours, it can feel like your closet is living in a state of utter chaos… never fear, we will walk you through our 3 step process to help you combat the chaos and get your closet flipped and organized for fall!
STEP #1 : THE SUMMER CLOTHES EDIT
1.)  Pull out ALL of your summer clothing…. yes, I said all of it (remember: it gets messy before it gets neat!) 
**Don't forget those dressers!
2.)  Physically touch or try on each item and use the questions below to determine if you should keep, donate, or discard the item. 
Did I wear this during this last season?
If your answer is Yes… Keep it!
If your answer is No… Donate it!
** Now I fully understand, we all have those few aspirational items we hope to fit into someday… I get it and I am with you…the key word here is "few". The best way to ensure that you keep it at a "few" is to contain those items using an organization solution such as a storage bin, basket, a drawer in your dresser, etc. and DO NOT allow them to exceed the allocated space. Keep in mind, the goal is for your closet to be full of clothes you *actually* wear… but don't fret, a couple of aspirational items never hurt anyone. #balance
Do I need this for a special occasion?
With everything that is going on in the world right now, I am not even sure what is considered a special occasion at this point… getting the mail? driving to the grocery store?… that is about as special as it gets around our house!
Anyways… if you have a few staple pieces that you didn't get to wear this last season (#2020) but know you will need for future occasions, go ahead and keep them!
Is it worn out or needs repair?
Personally, I am a big believer that clothing, just like food, has a shelf life… which means that once an item gets worn out, has hard-to-get-out stains, etc. it most likely needs to be discarded – trust me it is a very liberating process!
If any item is worn out, but you can't quite part with it yet, refer back to questions 1 & 2. If you can answer yes to either one of those, then you can set it in a designated space to be repaired.
**If you do this, I challenge you to set a reminder on your phone, in your calendar, or whatever works best for you to check back 2 weeks from now. If you still have not repaired the item, then it is probably not going to get repaired and will live a sad life in the "I will get to this someday…" pile – just go ahead and put it out of its misery…
3.)  You should now have three piles… Keep, Donate, Discard – Congrats you are ready to move on to Step 2!
Pro Tip: To help clear some of the mess & give you more room to work with, I recommend moving the discard pile immediately to your trash & put all of your donation items into a bag/box and directly into the trunk of your car. (Click the link & enter your zip code to find a Goodwill or Salvation Army drop off near you!)
STEP #2 : SUMMER CLOTHES STORAGE
1.)  Do a quick glance over your summer "Keep" items and pull out any items that you typically use all year round (ie. tank tops or short sleeve shirts for layering). Go ahead and stick those back in your closet… we will give you some tips on how to organize those in Step 3 🙌🏼

2.)  For the remaining "keep" items it is now time to determine where/how you are going to store these items during this off season. See some of our favorite suggestions for storing summer clothes below:
Maximize vertical storage!
Put those top, hard to reach shelves to good use, by utilizing storage bins or baskets to keep your out of season items nicely tucked away.
Pro Tip: Make sure to measure (height, width, & depth) your shelves before buying & don't forget your labels. (I absolutely love these clip on basket labels)
Utilize Under Bed Storage!
I know under the bed is usually where dust bunnies & monsters live, but this space can actually be a diamond in the rough if you use it properly. I recommend these under bed storage bins which will keep your clothes properly protected & roll nicely under your bed for easy storage!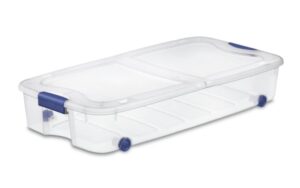 Wherever the space, remember containment is key!
If you don't have the extra space in your room or closet, you could consider storing items in your basement, garage, or a guest room closet. Depending on the space, be sure to use a proper containment method to keep your clothes protected from any potential elements.
Pro Tip: If you're concerned about moths, we suggest adding a spritz of lavender oil. It will not only help keep the moths away, but also keep your clothes smelling fresh when you revisit them in the spring… you're welcome 😊
3.)  Pat yourself on the back! You are now efficiently storing summer clothes and have officially made it through step 2… now it's time to get those clothes organized ❤️

STEP #3: FALL & WINTER CLOTHES ORGANIZATION
As much as I would love to get super customized in this section, unfortunately I am not standing in your closet with you (…if you prefer a more customized approach, reach out to hello@efficientlyneat.com 🙃), check out some of our tried and true tips below to help get your closet organized!
Find your most used items and put them front & center – you want those items easily accessible. 

Group similar items together & create zones (ie, pants, long sleeve shirts, cardigans, jackets, sweaters, etc.). You can also help keep zones in check with these lovely

dividers

.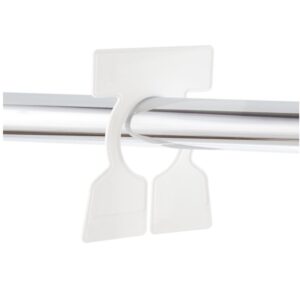 Pro tip: Once you have your zones created, take it one step further & color code each zone ( ROYGBIV 🌈 )… it is not only fun, but makes picking out an outfit so much easier!
Utilize 

slim hangers

like these that allow you to maximize space, are non slip AND create uniformity — seriously, if there is one thing you can do to make your closet look amazing it is to use matching hangers… just trust me on this!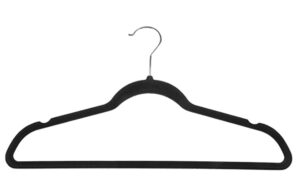 Fold your sweaters & heavy knits (nobody wants those annoying hanger marks on the shoulders🙈)
Pro Tip: You can use shelf dividers or a stackable sweater bin to help contain sweaters and keep them in their folded glory!
ALWAYS having a small bin/basket in your closet for clothing that you decide you no longer want mid-season or requires repairs or dry-cleaning.

  
To avoid overstuffing, store heavy coats, winter scarves, gloves and hats in your mudroom or entryway closet. 

WHOO HOO, you did it!! Now stand back and admire 😍 Gosh, doesn't it feel good to clear out all that excess… your closet is definitely thanking you! Not only does it look & feel lighter, but you have just exponentially streamlined your daily wardrobe choices by no longer having to look at out of season clothing… now thats what I call efficiency 🙌🏼
I hope these steps give you some extra motivation & the confidence to tackle the chaos and get your closet organized for fall! Don't worry, if you find yourself still a little intimidated by the whole ordeal, feel free to reach out through our Get Started! page or email at hello@efficientlyneat.com and we will be happy to help you get your closet into tip top shape!

Happy Organizing!
-EN
Featured Image Credit: Olivia Rink