Pumpkin carving, candy comas, glow stick dance parties, and an Egg Haunt (think easter egg hunt, but Halloween style 😂)… our 2020 Halloween was anything but normal, but we made it fun regardless! Instead of trick or treating this year, we decided to stay in and throw our own little Halloween Party. It ended up being a ton of fun, but in doing so we somehow accumulated more Halloween decorations than ever before… I blame Amazon 🙃
As I begin to pack away our now double the amount of halloween decor, I wanted to share my top 5 storage tips to hopefully help you avoid that "I'm just going to set this here…" pile in your basement, garage, closet, etc.
Here are 5 tips to help make Halloween clean up a breeze!
DISCARD & DONATE
The first step for any organizing project is the "edit" – this means you go through and physically touch EVERY item to decide whether to keep, trash or donate. This is such an important part of the process, because who really wants to store broken or unnecessary items, plus it allows you to truly see the exact items that need to be stored so you can locate and/or buy the necessary storage solutions! (see our suggestion for an amazing decoration storage bin below 🙌🏼)
As you do a once over of your halloween decorations, make sure to pay careful attention to those outdoor decorations to check for damage due to weather or critters.  As you come across a damaged item, do a quick assessment to decide if the item is easily fixable (aka keep) or ready to be donated/discarded.
STORAGE BINS
One of the most important parts of organizing is containment. I am a big fan of these clear storage boxes from Target pictured below for a couple of reasons…
You can easily see all of the contents inside
Their orange top provides built in color coding so they are easily identifiable
Bonus: This means they are husband proof! Even if your husband somehow has trouble reading the *clearly* printed labels right in front of him 🤦🏼‍♀️ – these bins provide a bright visual that can't be overlooked!
They are plastic so they can hold up to the environment and bugs (no one likes real creepy crawlies in with their fake creepy crawlies…)
Pro Tip: Complete your storage bin organization with a Halloween Label and/or written description of exact contents & your future self will thank you… just know this part may or may not be husband proof!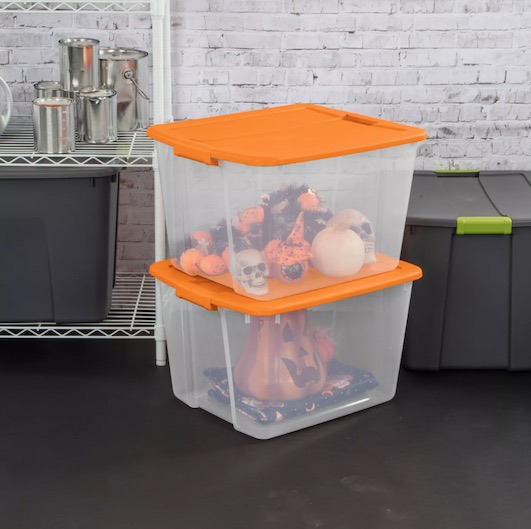 GROUP SIMILAR ITEMS TOGETHER
The whole point of getting organized is to be well… organized. No one wants to open up a storage bin only to find what seems like a bunch puzzles pieces stuffed together that now need additional sorting. One easy way to avoid this is to group like items together – no need to overthink this, just start with generalized categories like the ones listed below & if needed get more specific depending on your storage bin availability.
Bonus: Costumes tend to have multiple pieces/items that can get easily lost or separated – Avoid a headache next year by putting all of the pieces for each costume into a separate bag – double bonus points for a label! (ie. costume type, size, contents, etc.)
Outside Decor
Inside Decor
Halloween Crafts
Pumpkin Carving Supplies
Pro Tip: Have ONE designated space in your home that you store all of your Halloween decorations in (ie. garage, basement, closet, etc.) – no one wants to go search all over to the house to locate their different bins!
PROTECT FRAGILE ITEMS
Nothing is worse than opening up a storage bin only to find broken decor 😖. Utilize these two tricks to keep your fragile items protected and safe all year long:
Reusable Plastic Bags – For any item that is mainly fabric or paper I try to put them into a gallon-sized zip lock bag to to help protect them from moisture
Bubble Wrap for Breakables – I found these clear bubble wrap pouches on amazon that can easily store all of your small breakable items
Pro tip: Use a sharpie to label each back with its specific contents so you can easily return the item to its designated bag post Halloween.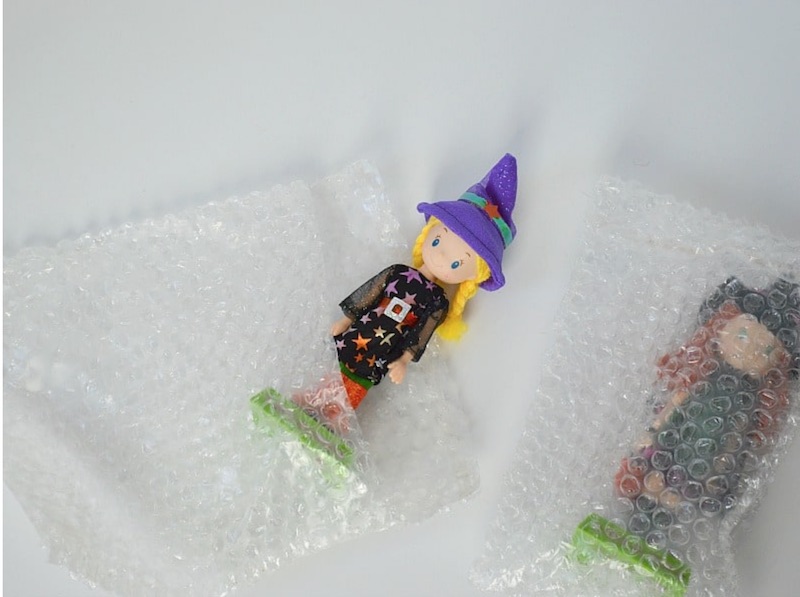 NESTING
Decorations are notorious for not being very efficient in their ability to store neatly – they come in all different sizes & shapes which can be hard to ensure you are maximizing space in those storage bins. Be sure to pack smaller items inside larger ones to maximize the space AND help keep those smaller items from rattling around.
Now put those jack-o-lanterns to good use & FILL, FILL, FILL! 
Happy Organizing!
-EN