Is it just me or does this time of year somehow make your coat closet and/or mudroom look like a bomb went off with the addition of all that winter gear 😱. I am not entirely sure how, but I am pretty convinced our winter gear multiplies during the off season! What used to be a nice, orderly space, all of sudden turns into a state of chaos. Although this is to be expected during this time of year, it still seems to catch me off guard every time 😑. Thankfully I know all it takes are a few simple tweaks to get back to our regular orderly state 🙌🏼
Unfortunately our house does not have one of those beautiful built in mudrooms (don't worry, those are not a requirement to get organized!). Luckily, with the a mixture of creativity & a little rearranging, I was able to create a small (but functional) mudroom + laundry room combo. It is definitely not glamorous, but with our systems and processes in place, it allow us to utilize the space to best fit our needs!
When it comes to organizing, I typically preach to keep ALL like items together, but I have to confess… we technically have two spots where we store our winter gear 😬.  I know, I know… but every organizing situation is unique! Just like when I am working with a client, the ultimate goal is to find a system that works best for YOUR specific needs… even if that means having to break a couple of organizing rules in the process 😇
STORING OUR REGULARLY USED GEAR
Alright, back to how we store our winter gear…. our mudroom + laundry room combo is where we keep all the items that we use on a daily basis. Within this room, we have a simple shoe rack, where each family member gets a row to keep a few pairs of shoes (any additional shoes are stored in individual closets up in rooms). During the winter we each convert one of the shoe cubbies to a winter gear cubby, which gives each person a place where they can store their hat, gloves, scarf, etc (containment is so key here!). Additionally we all have our own hook where we can hang a bag/purse and a jacket or two. We keep our winter boots out in the garage on a mat and try to keep them out there to avoid tracking into the house!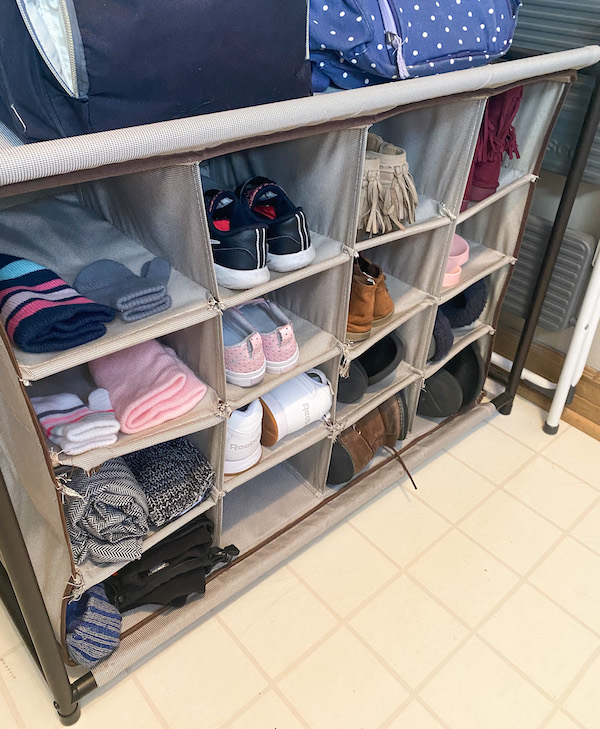 Wouldn't it be nice if that was all we had?!  Keep following along to see how we organized the rest of our gear, along with bonus winter gear storage ideas at the end!
…BUT WHAT ABOUT THE EXTRA STUFF??
The rest of our winter gear is stored in our small coat closet in the front entry way of our house. I would consider these items to be our "back stock" winter gear (which is just a fancy organizer way of saying "extra"). The way our house is laid out it doesn't make sense for us to use this coat closet on a regular basis because it is too far from the garage where we typically enter & exit – thus, that is the reason it has become our back stock storage solution for extra winter gear that we need but don't use on a daily basis!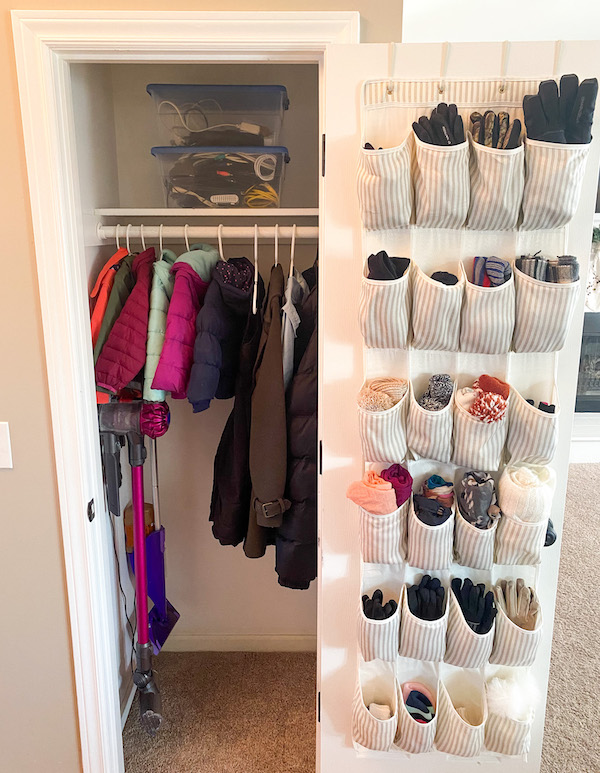 You may be asking, what do you considered "back stock" and why do you have it? For us, those extra items consist of our "fancier" winter coats (you know, the ones you need for the occasional winter formal event) and extra kid coats – these are the ones our three year old has grown out of but we are holding onto to pass down to her little sister #secondchildproblems. This area also stores our extra scarves (I may have a slight obsession with scarves 🤪), hats, mittens/gloves, the kid's snow pants & a rain jacket or two. Now keep in mind, these items have been carefully selected and thoughtfully organized… keep reading to see how we edit, sort & organize our back stock items to maximize the space in our small closet!
1. SORT
Remember the picture of the heaping pile of winter gear at the top of this page… well in order to get that pile organized, the first thing I did was to sort everything! I started by completing what I call a "rough sort" – that is where I quickly sorted each item by category (ie. making a pile for all the hats, all the scarfs, all the gloves/mittens, etc.). Once the rough sort was completed, I went category by category and broke them down even further by kids, women's, & men's items.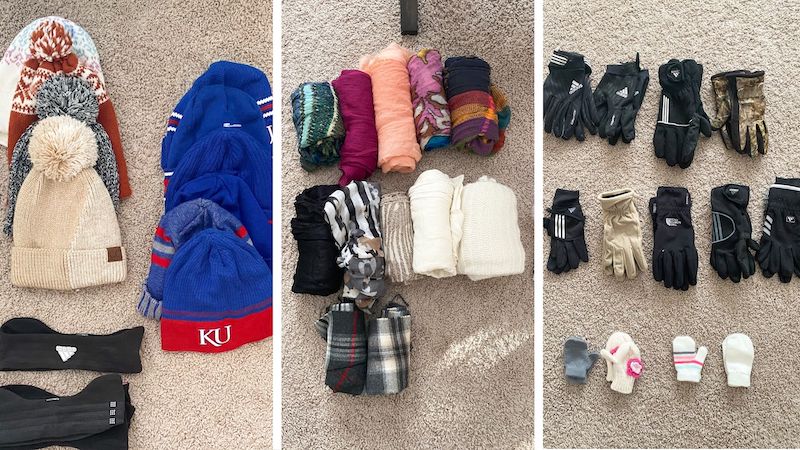 2. EDIT
The next step is called the "Edit". During this step I looked through each item and asked myself, do I:
Use it
Need it (ie. for a formal event, for snow day play, etc.)
Love it (…and pretty much couldn't live my life without it)

During this step I also got rid of any gloves/mittens that had lost their match, checked items for stains/holes, and even made the tough call to donate items that I had once loved, but realized I never wore much anymore. This is typically the hardest step for people, so remember to trust your gut when making decisions!
3. ORGANIZE & CREATE SYSTEMS
Once items were sorted & edited, I got to town organizing them (this is where the transformation happens ✨). Since we have a small coat closet, I opted to reuse an old over the door shoe hanger to organize all of our extra winter gear into. I know this isn't *technically* what this specific organizer was intended for, but I love getting creative and trying to figure out different ways to utilize products that I already own!
When organizing I always try to think about how I can arrange the space to make my life as efficient as possible. For this project that means organizing items by height so that each person can easily access what they need. I started with the kids items first and put those along the bottom slots. This allows my *very independent* three year old to switch out hats or gloves on her own and limits the amount of bending down my husband and I have to do to find what we need #winwin. In the middle section, I put items that belonged to me because well, selfishly that was the best height for me to be able to see everything 🙃. Up top, I put my husbands items since he is tall and can see/reach up there. With each section, I arranged all the items by kind (hats, gloves, scarves) so that each category was grouped together and could be easily accessed.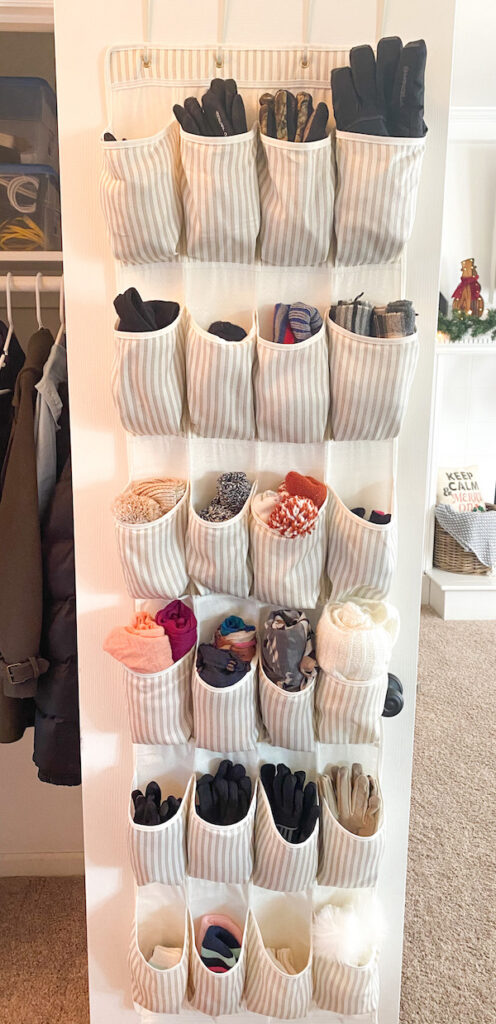 Overall, this system has worked well for us because it gives us the best of both worlds! We have a functional daily space that houses our regularly used items, as well as an organized back stock area. Just like anything in life, it takes regular maintenance to keep our spaces organized. We are continually checking to make sure items are staying within their confined zones (ie. if the designated winter gear cubby is exploding with too much gear – we know it is time to return some of those items back to the back stock area in the coat closet). We also make sure to regularly sort & edit our items before and/or after each season so our back stock doesn't get too full & out of control!
This is just one organizing scenario, but hopefully it got your brain turning about how you could easily tame the winter gear explosion in your home! For more inspiration, check out these creative winter gear storage ideas: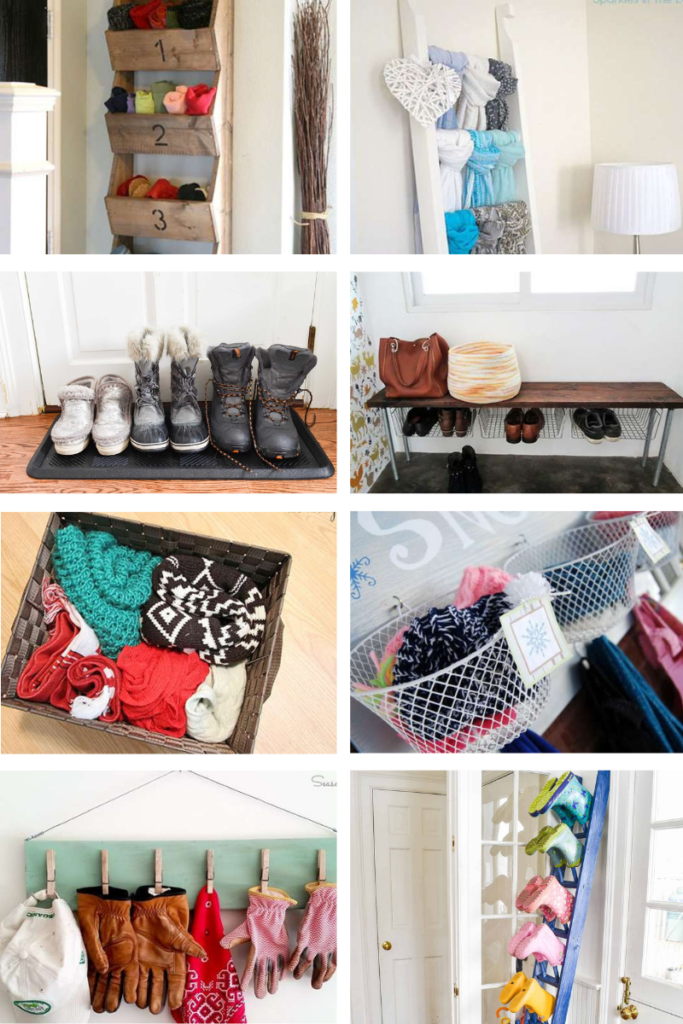 Happy Organizing!
-EN